What Our Members Say
PRESIDENT'S MESSAGE
Steve Barrett, DPM, FAENS
The Association of Extremity Nerve Surgeons (AENS) wants to thank each member for your support and advancement of nerve treatment. Your involvement is critical to continuing treatment of peripheral nerve pathology. I am excited to serve as your President for 2014-2015 and welcome any suggestions and research ideas. For those who are interested in advancing nerve treatment – JOIN US!
As a specialty society, AENS has grown to over 150 DPM's & MD's with focus on nerve treatment. Advancement and research CANNOT continue without YOU. 2014 was an exciting year as we continued our focus on research and medical missions through the Extremity Nerve Research Foundation. Your dues are the cornerstone for our advancement. AENS tries to build member benefits based on YOUR requests. The below goals are what I pledge to achieve with the help of the AENS Board Of Directors and project committees. If you are interested in volunteering for any of these projects, please contact myself or info@aens.us.

NEW BENEFITS ARE UNDERWAY!
AENS Board of Directors have pledged to implement the following items in the next 18 months:
To create and establish a Peripheral Nerve Surgical Fellowship program model - which the first will be in Portland, ME

To continue to provide top quality hands-on surgical training courses, Annual Symposium and Napa Specialty Wine & Nerve meeting.
AENS PAST PRESIDENT
NATIONAL BOOK RELEASE!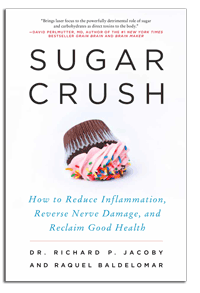 Click here for Video Info & Pre-order discounts.

Sugar Crush exposes the shocking truth about how a diet high in sugar, processed carbohydrates, and wheat compresses and damages the peripheral nerves of the body, leading to pain, and other related diseases.

Dr. Richard Jacoby shares his insights on how sugar is the common denominator of many chronic diseases. Based on his clinical work, he breaks down effective options, showing how dietary changes reducing sugar and wheat, coinciding with an increase of good fats, can dramatically help regenerate nerves and rehabilitate their normal function.

"Sugar Crush brings laser focus to the powerfully detrimental role of sugar and carbohydrates as direct toxins not just to the peripheral nerves, but to the body in general. This is up to date and incredibly well-researched information that helps rewrite our understanding of disease prevention."

-- David Perlmutter, MD, author of the #1 New York Times Bestseller Grain Brain and Brain Maker.

**See Dr. Jacoby at the APMA National Conference in Orlando for book signing & questions at the AENS Booth/July 24 Reception at the Orlando World Center Marriott .