AENS provides educational opportunities for it's members as well as continuing education credit.
To find a member with FELLOW status of the Association of Extremity Nerve Surgeonsclick here. A FELLOW is a physician that is a member in good standing and has completed specialty training and has at least 2 years or more of case experience. To confirm details of extremity nerve treatment offered or insurance information, contact the physician directly.
ENRF's focus is to conduct and support scientific research to advance extremity nerve treatment that makes a difference in our world.
---
Be A Part of History! DURA Study
Support the Level 1 Diabetic Ulcer Research Study (DURA Study). Advancing Nerve for the Future. Donate ONLINE or download the DONATION FORM. Dr. Scott Nickerson updates us on opportunities to advance nerve research in his appeal for donations to the Extremity Nerve Research Foundation (ENRF). Please see his appeal HERE.
Promotions
AENS Member Promotions
GRAMEDICA Decompression Scisssor Set -

*Take Advantage of discount & percent donated back to AENS!
Click here for the Order Form
DELLON Surgical DVD Set - 5 DVD Surgical Instruction Series $525 * includes shipping

*A portion of proceeds is donated to the Nerve Foundation Procedures Included: Lower Extremity Cadaver Dissections Articles, Lectures & Physical Exams Comoon Peroneal Nerve Decompression Deep & Superficial Peroneal Nerve Decompression Tarsal Tunnels Decompression
Click here for the Order Form
AENS Member Books Available
AENS Clinical Practice Guidelines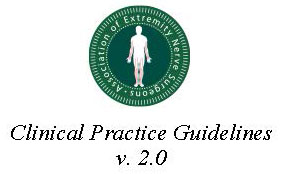 ---
AENS Sample Informed Consent Presentation
Click here to download the English version