2022 Annual Symposium
Event Date & Time
11/4/2022 - 11/6/2022

Location
Hilton Fort Worth
815 Main Street , Ft. Worth, Texas 76102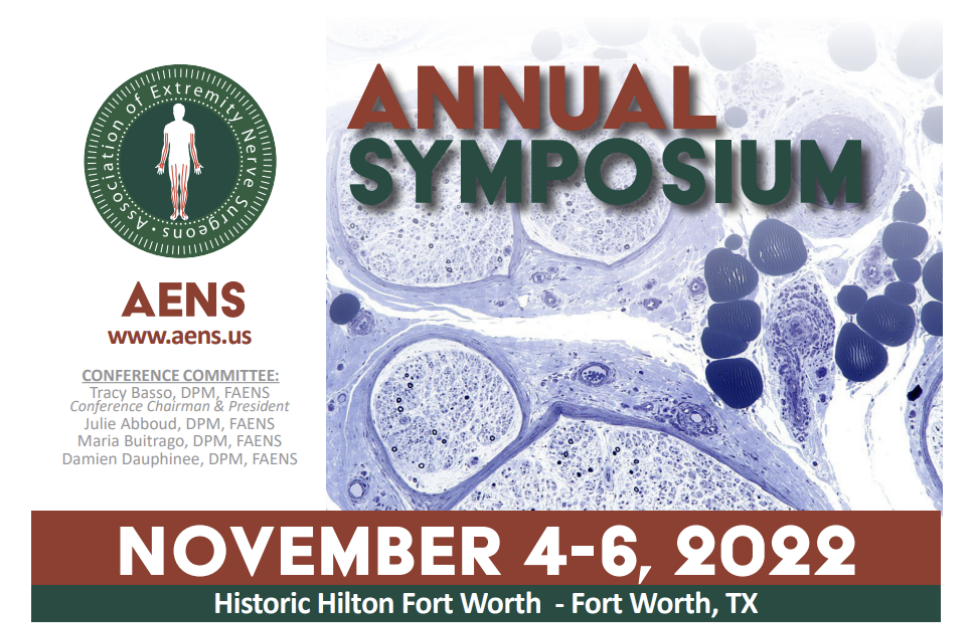 LOCATION & ACCOMMODATIONS
815 Main Street
Fort Worth, TX 76102
AENS Group Rate: $179.00 (Includes breakfast, WiFi, parking)
Reservation Deadline: October 5, 2022
Reservations: Call 817-870-2199 or click here to book online
Registration is open now! Click here to view the schedule and register via a downloadable form.
Online registration is also accessible below. An option to add guests, if any, will come up as an attendee goes through the registration process.
The optional Advanced Nerve & Trauma and Advanced Nerve Repair, Stim Update & Open Discussion workshops on Friday are now full. Please contact info@aens.us to be added to a waitlist.
This course is now full. Click here to download the registration brochure/form or email krista.richter@yahoo.com to be added to a waitlist.
Sponsorships are available now! Click here to view all options and access registration.
Have questions? Contact info@aens.us for assistance.
Fees
On-Line Registration

Annual Symposium Registration - AENS/AMOS Member - Early Bird Fee (Member): $550.00
Register


---

Annual Symposium Registration - Non-Member - Early Bird Fee (Non-Member): $795.00
Register


---

Annual Symposium Registration - Resident/Student - Early Bird Fee (Student/Resident): $160.00
Register


---

Annual Symposium Registration - Remote Attendee CME - Early Bird Fee (Remote Attendee): $450.00
Register


---

Annual Symposium Registration - New Referred Physician - Early Bird Fee (New Referred Physician): $350.00
Register


---
---